Scratching posts are a very popular type of cat toy. Keeping them occupied, scratching posts provide your feline with a place to relieve their natural tendency to scratch. But, if you start to find strands of shredded straw, you might want to start looking for toy alternatives for scratching posts.
While these are good toys, you could be finding yourself annoyed at the stringy material you are having to clean up once your cat is through. If you are looking for ways to keep your cat entertained, here are 5 toy alternatives for scratching posts that will make your cats forget about their natural need to scratch.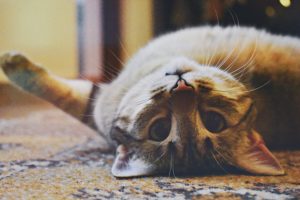 5 Toy Alternatives For Scratching Posts Your Cat Needs
Lasers
Lasers are great toy alternatives for scratching posts to have on hand because they will keep your cat entertained for hours. Since cats are easily distracted, they will want to follow the bright red light wherever it goes. 
There's a benefit for you, too, using a laser: you don't have to get up from your seat.
If you're comfy on the couch or cuddled up in bed, press the button to shine the little dot on the wall or on the floor and watch your cat work hard to chase the small circle! Don't forget to laugh at their little chase.
Activity Jungle
Activity jungles are another great option to look at to have as a toy for your cat. These toys give your cats small adventures as they provide a little jungle gym for them to move through or play with.
These toys can be towers for them to climb or flat jungles that come with their own source of entertainment, meaning you don't have to do anything but set the toy up. Activity jungles or towers allow your cat to climb and be adventurous, which are other natural tendencies for cats to have.
Some cats even take naps in their towers, so these can be a win-win.
Bouncy Balls
If you are looking for a toy alternative for scratching posts that keeps your cat busy and distracted, then look no further than to bouncy balls. With their round surface and ability to bounce, cats will have fun chasing these toys and trying to catch them on a slippery surface.
For an even better distraction, look for bouncy balls with bells or tiny plastic balls inside to create more noise. Noise provides another means of distraction for cats to keep them from shredding the post and creating a mess on the floor.
Yard String
Along with bouncy balls, balls of yarn or strands of yard string are other toys to consider when keeping your cat distracting. Since cats like to chase, dragging a yard of string on the ground will capture their attention and make them devoted to chasing the string.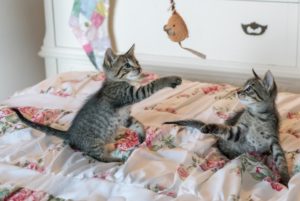 Feather Teaser
Feather teasers are one of the most superior types of cat toys, and another option easy for you. Most feather toys are made with a long plastic stick with a feather toy on the end for you to dangle and get your cat's attention. 
Feather teasers are another toy you can use while laying around, making it another win-win for you!